日本語
For teachers, and learners, of Japanese, who are looking for digital materials in and out of the classroom, this site will be your best resource. We are in constant search of high-quality materials which will support both learners and teachers.


当サイトは日本語学習のためのデジタル教材をお探しの教師、学習者に最適です。学習者と教師をサポートするため常に高品質な教材を提供します。


2015 Hiragana Times Class Set
Check out a new way to enjoy the Hiragana Times. Get access to ALL 2015 issues, even off campus. Learners can access assigned sections from home or school (internet access required).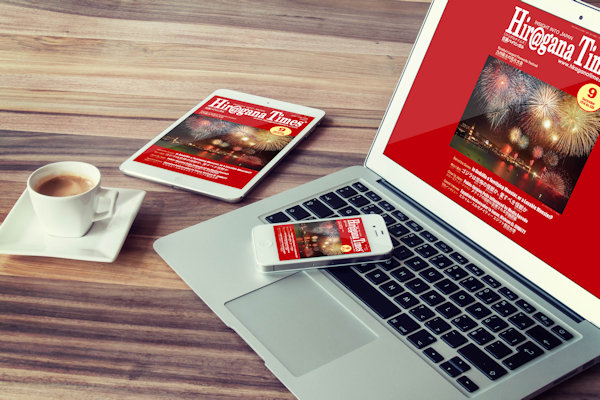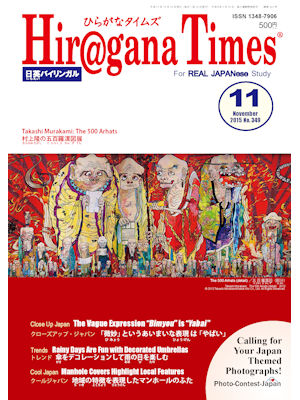 Hiragana Times
Now offering an Academic Subscription for classes of students studying Japanese, all over the world. The venerable Hiragana Times magazine, first published in 1986, is a truly unique magazine in which you can study language while learning about Japan. Each Japanese paragraph is followed by its English translation or vice versa, and furigana are placed below each kanji to make Japanese study even easier. Hiragana Times introduces the real Japan to non-Japanese by looking at Japan as an attractive, unique town in the global village. Inside Hiragana Times, the world of Japan becomes reality, and one can experience the cultural frontier between Japan and the rest of the world.



ひらがなタイムズ
今世界中で、日本語学習者クラスのためのアカデミック購読を提供しています。 日本語学習誌として定評のあるひらがなタイムズは、1986年に創刊され、日本について学びながら言語を学ぶことができる大変ユニークな雑誌です。日本語の各段落は、英 訳され(またはその逆)、漢字につけられた振り仮名が日本語の学習をより容易にしています。ひらがなタイムズは、地球村の中の魅力的でユニークな町として日本を見ることで、真の日本の姿を紹介しています。ひらがなタイムズを読めば日本という世界が現実となり、日本と世界の間にある文化的フロンティアを体験できるのです。


About Us
We are teachers and educators based in Japan, the UK, Canada and the US. Our focus is on providing high quality content digitally. We preserve the strength of books (the layout, graphics and so on) while also adding in the elements that teachers want, and students need. Simultaneously, our solution enables the books to be used as full e-learning content and integrated to the wider LMS environment.